So last week i discovered this baking site. One particular post caught my eye:
The Triple Threat
It is about the 'Holy Trinity' of baking, or a 'Cookie Cake Pie.' The moment i saw it, i knew we had to try it. I showed my roommates and it was settled. We were going to make The Triple Threat.
Here's basically what it is. Pie Crust, with chocolate chip cookie dough, and funfetti cake, topped with cream cheese frosting. Here's how it went:
Lauren made a pie crust from scratch and split it in two, making two pies.
Then made chocolate chip cookie dough with Megan's perfected recipe! Let me tell you, it was absolutely perfect. We smashed it down into the bottom of the pan. We ended up having extra, which we most definitely used. (i'll get to that later)
After that we made the cake batter and poured it in! There was definitely extra batter, which we also used, and I will also get to later.
We decided to bake it at a lower temperature for longer, so it would bake all the way through. I think we did 300-325 till it was all the way cooked through. I think this took about 40 minutes? We just did the toothpick test. Comes out clean, done! money.
Meanwhile, we used the left overs to make our own little creations! We put the cookie dough in the cupcake liners, added a layer of Nutella, and topped it off with the extra cake batter. Holy Moly.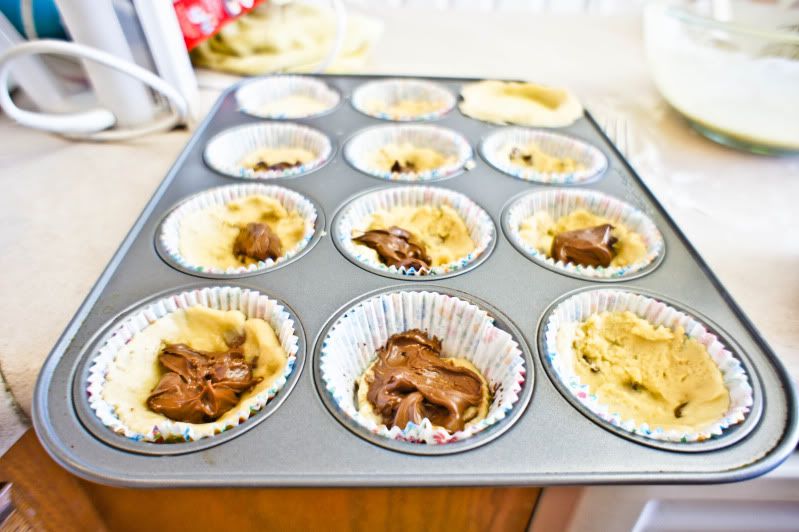 When the pies were done, we let them cool then frosted them, and added sprinkles.
After a little celebration, we devoured that thing! And i will tell you,
Basically its the best thing any of us had ever tasted. i HIGHLY recommend trying this. In fact, while composing this blog post, i've eaten three slices of the 2nd pie. Seriously, its delicious. Well worth the miserable work out i will have today, as a result.